People Make Places is a unique travel brand focusing on introducing beautiful / delicious / charming / artistic places in Tokyo, and the people behind them. They have produced a beautiful hard cover book, an iPhone + iPad app, and also a concierge service for bespoke tours in Japan.
ROLES:

UX DESIGN

/

UI DESIGN
The
Tacchi Studios
team and I worked closely together with the creators of PMP to develop personas and user journeys, which helped us create a beautiful and slick app experience, where the design is simple, allowing the beautiful photographic content to take focus.
Each listing includes beautiful photography of both the 'place' itself, as well as an interview with the 'people' behind them.

The listing screen uses a very simple layout and design, allowing for easy reading.

We also included a location map, tips and advice for reservations, and an address card in Japanese for users to present to local taxi drivers.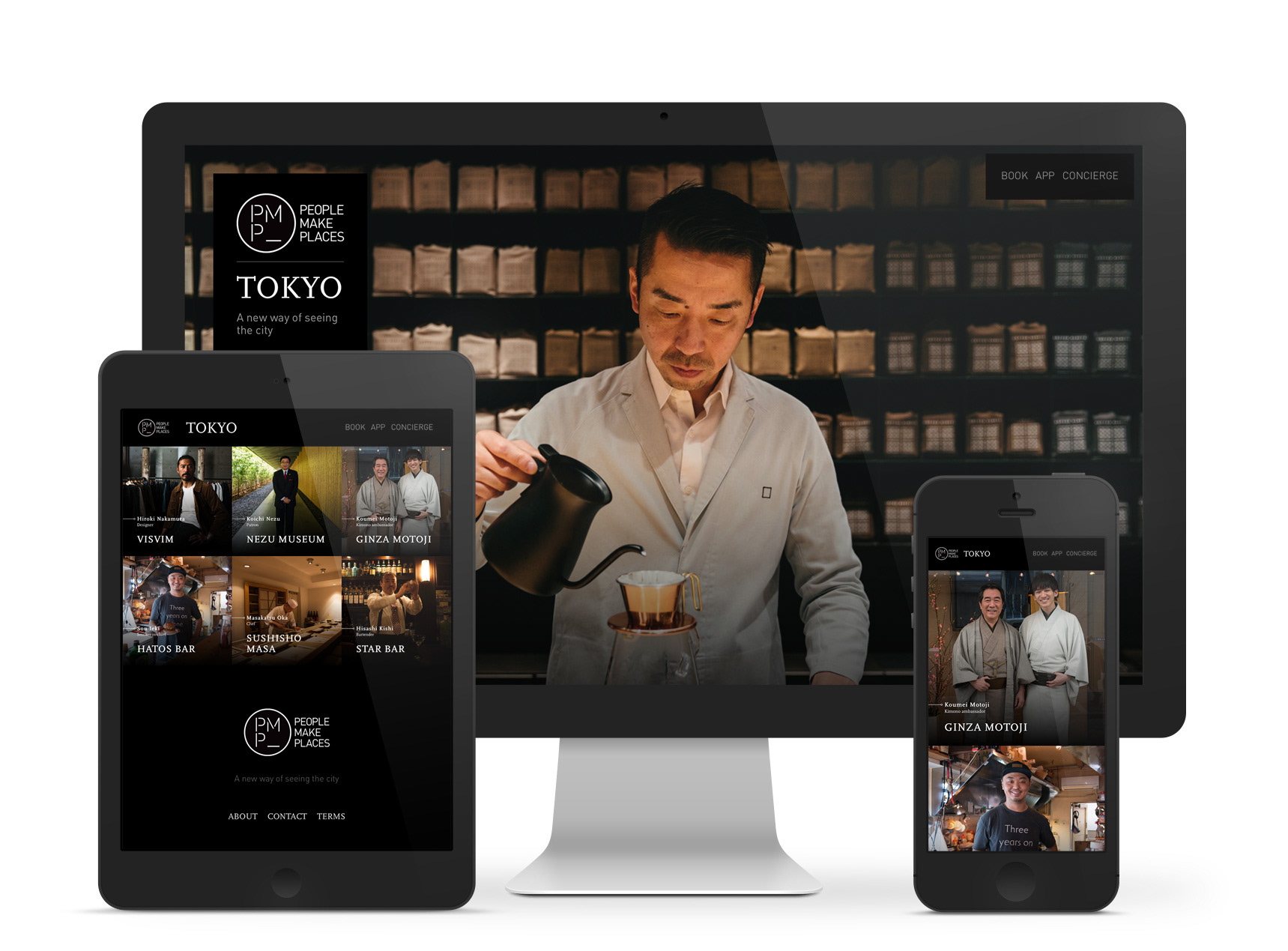 We also designed and built a responsive website to help promote the brand and allow customers to buy the book.
New people and places are being added to the app regularly.
Nicolai Bergmann is a Danish floral artist who has introduced his unique style to Japan, combining Scandinavian design principles with Japanese attention to detail. I worked with Tacchi to design their online store website.
The Tacchi team and I collaborated with Nicolai Bergmann and his wife to produce a website that conveys the Nicolai Bergmann brand's values and aesthetics.
The online store was built to complement the main brand website, and ensures a smooth user experience for ordering online on any device.

The site was built in both Japanese and English, and allows users to browse products by various categories before making their purchase.
Summerbird Organic, founded in Denmark in 1986, is a high-end chocolate brand which prides itself on the finest, most delicious organic chocolate products in the world. I helped Tacchi design the brand website and online store for their launch in Japan.
It was important to portray Summerbird as the high-end brand they are, so we focused on using gorgeous photos of the raw, organic ingredients and no-compromise processes used to make their products.

The website was built in both Japanese and English, and retains its simplicity and usability on all devices.

The Summerbird Lab & Cafe, located in Minami-Aoyama, Tokyo, is more like a gallery, showing off the beautiful product range, and allowing customers to watch their chocolatiers at work. 

The website allows the user to not only learn about the Summerbird brand, but also order their products online.